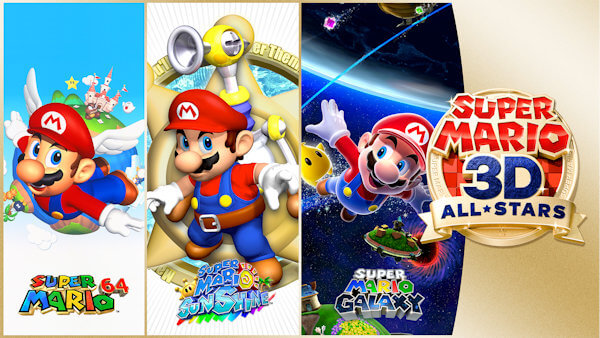 Super Mario 3D All-Stars was a compilation game for the Nintendo Switch. Super Mario 64, Super Mario Sunshine, and Super Mario Galaxy were included in this limited edition game. The game was published by Nintendo. The game was released on September 18, 2020. The game's last day of being on sale was March 31, 2021, however retailers continued to sale the game until supplies sold out. The game was developed by 1-Up Studio and Nintendo and published by Nintendo.
The three games included are their original versions. Minor changes were made to change the games to be compatible with the Nintendo Switch. In Super Mario 64, the game was enhanced for 720p and rumble. Super Mario Sunshine and Super Mario Galaxy were 1080p.
The game utlizes emulation instead of remaking the games from scratch. A patch was released that added camera options for all 3 games and control options for F.L.U.D.D for Super Mario Sunshine. Futher updates added support for the GameCube controller while the Switch was docked for Super Mario Sunshine. The game also support for the Nintendo 64 wireless "Switch" controller for Super Mario 64 in November 2021
The game received favorable reviews. Critics found fault with Nintendo's lack of updating the games. Many thought Super Mario Galaxy 2 should have also been included. Others believed the games shouldn't have been a limited edition release.
As of March 2021, the game sold over 9 million copies.
Screenshots