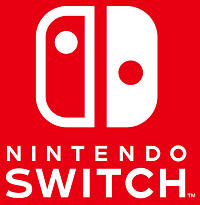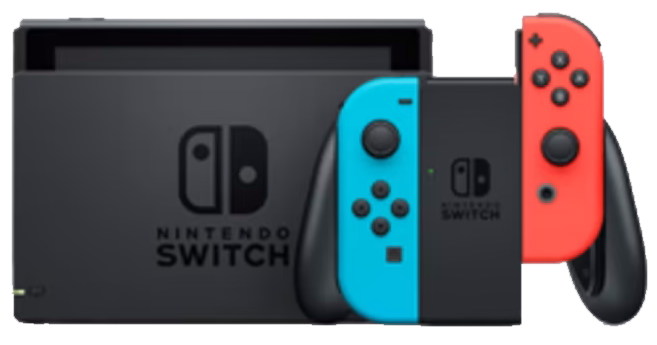 The original Nintendo Switch is Nintendo's first hybrid home console. The console also functions as a portable gaming system. There are three different ways to use the Switch. It can be docked in the Switch Dock in TV Mode, used in Handheld Mode, or by using the built-in stand in Tabletop Mode. The console will be released on March 3, 2017 worldwide.
The main console is the tablet-like device. The Switch console features a 6.2 inch capacitive multi-touch screen. The Switch Dock features the HDMI connection to the television and the charge cradle for the actual console. The Nintendo Switch is not compatible with the Wii U or the Nintendo 3DS. The Nintendo Switch uses media cards like the Nintendo 3DS.
The Nintendo Switch features detachable controllers called the Joy-Cons. Gray, Neon Blue, and Neon Red Joy-Cons will be available at launch. The Joy-Cons can be used as a single controller or used together. There is a capture button on the left Joy-Con. This can be used to capture a screenshot and shared on social media. In the future, video will also be able to be captured. Each Joy-Con features a gyroscope and accelerometer. Each Joy-Con also features HD Rumble. The right Joy-Con features an IR Motion Camera which can detect distance, motion, and size of nearby objects. Also on the right Joy-Con is the amiibo reader for the console. The Nintendo Switch Pro Controller will also function with amiibo. Each Joy-Con can be charged while docked with the Switch or charged using a Nintendo Switch charging grip accessory. Each Joy-Con will last approximately 20 hours.
The Nintendo Switch connects to the internet using a wireless 802.11 AC card. This provides the fastest possible connection to the internet. The USB ports on the dock can also be used to connect to the internet using a USB LAN adapter. The USB ports can also be used to charge the Switch Pro Controller or the Joy-Cons while docked to the Joy-Con charging grip.
Nintendo released The Legend of Zelda: Breath of the Wild as a launch title. Nintendo also released Splatoon 2 and Super Mario Odyssey in 2017.
The console retails for $299.99 in the United States and $399.99 (CAD) in Canada. Various price points exist throughout Europe.
For more technical specifications on the Nintendo Switch, visit the
Specifications Page
.